Contact us
Name:
SONWI
Tel:
+86-755-22212007
Fax:
+86-755-22212008
E-mail:
admin@sonwit.com
Add:
No. 168 Zhenzhong Road, Futian District, Shenzhen City ,Guangdong Province, China
MSN:
annalei1987@hotmail.com
Skype:
sinwit008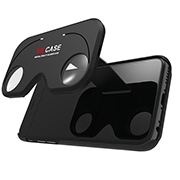 VR Glasses 3D Mobile Phone Case
Model NO.: SW-VR05

Quality: A+++

Color: Black,Silver,Gold,Rose gold
Feature:
3D VR Phone Shell, Foldable VR Case with Virtual Reality Glasses for Mobile Phone
Virtualreality devices give users very immersive feelings, but there are onedisadvantage that they are size heavy. We cannot take it out everywhere. It isfunny to wear a helmet or cardboard box everywhere! With the original VR box wecannot see the outside world, even when you been robbed or stolen! Recently wenew released a VR case model specifically for the mobile phones, it is a phonecase and holder in usual. Users can put it easily in the pocket after pull inthe hidden cover and well protected the lenses. As most of the phoneaccessories, the VR CASE fits for 4.7 and 5.5 inch of iPhone 6 system andiPhone 6s system. It will give users an amazing virtual reality experience,allow them tobe enchanted bythe virtual reality movies and concerts, to explore fabulous travel sceneryplace. Playing games with the CASE is also available. It looks a little thickerthan common phone case, but its weight only 58g. It is made up of siliconrubber, on sealing and anti-shock aspect it is great.
Mainadvantages and features of the VR CASE:
1. Special scratch-resistant lens covers that designed by professional teamwill protect the lenses from being scratched. The covers will hide the lenseswell when we are not using the VR CASE.
2. Itsupports all main phone models of iPhone6/6s, can work as a phone case, a VRglasses and a phone holder.
3. It isvery portable. Can be put in the pocket easily. Compared with other size biggerVR devices, it allows us to look around the outside world at any time. We willnot feel being isolated and feel any troubles
Material: ABS+PC
Lens: HD Optical Resin Lens
Lens Diameter: 33.5mm
FOV: 70°
IPD: 58mm ~ 72mm
AR Function: Support, Built-in Space for Camera
Phone Supported: Android & iOS smartphone, Screen size from 4.5" to 6.0", resolution 1080P or above, Phone Width ≤ 80mm, length ≤ 163mm.
Package including:
1* VR Box Play 3D Virtual Reality Glasses case
1* Qualification
1* User Manual
More images: