Contact us
Name:
SONWI
Tel:
+86-755-22212007
Fax:
+86-755-22212008
E-mail:
admin@sonwit.com
Add:
No. 168 Zhenzhong Road, Futian District, Shenzhen City ,Guangdong Province, China
MSN:
annalei1987@hotmail.com
Skype:
sinwit008

Wireless Charging Receiver for Android Phone
Model No.: SW-WCR01…SW-WCR08

Quality: A+++

Stock: Yes
Features:
(Universal Wireless Charging Receiver for all smart and function mobiles with 5pin,especially for samsung)
Features: independent coil,650mAh output,4 types option
Specification:
*Input voltage: DC5V1A;
*Transmitter power: 5W
*Charging current : 650mA
*transmission distance:5mm
*Dimension: 90*46*0.7mm
*Weight:10g
*Charging efficiency:≥70%
*Standard: QI
*Suitable for all mobiles with micro USB jack mobiles
Model details, all of them are in stock, just contact us what you need. :D
SW-WCR01 Note2
SW-WCR02 Note3
SW-WCR03 Note4
SW-WCR04 S3
SW-WCR05 S4
SW-WCR06 S5
SW-WCR07 Universal Android Postive
SW-WCR08 Universal Android Negative
How to use it?
Step 1: Open the back cover of the Samsung Phone;
Step 2: Stick the receiver card to the mobile phone's battery and the two protuberant touch points must touch the two recesses next to the battery;
Step 3: Close the back cover;
Step 4: Place the mobile phone onto the Qi wireless charging pad (not included).
More Images: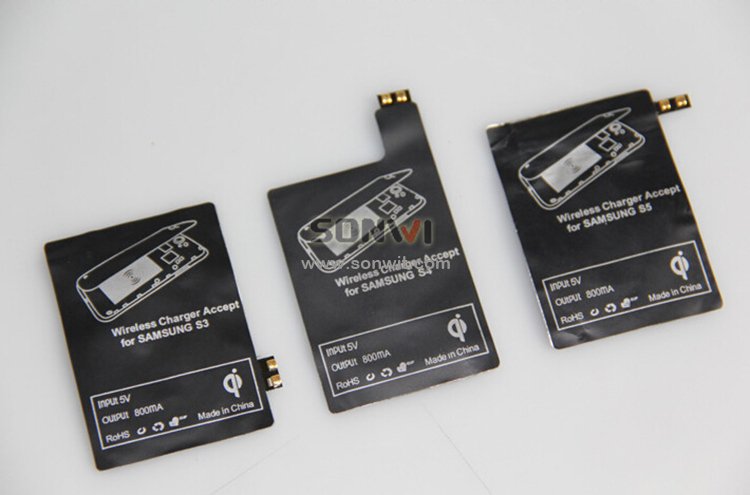 '