Contact us
Name:
SONWI
Tel:
+86-755-22212007
Fax:
+86-755-22212008
E-mail:
admin@sonwit.com
Add:
No. 168 Zhenzhong Road, Futian District, Shenzhen City ,Guangdong Province, China
MSN:
annalei1987@hotmail.com
Skype:
sinwit008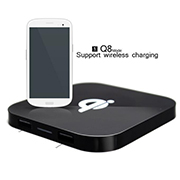 Qi Standard Wireless Charging Pad
Model NO.: SW-QWC03

Quality: A+++

Color: Black,White
Feature:
Note:
Wireless Qi Receiver Not included!
Can only work with Qi standard built in directly,or have to buy Qi Receiver to work together,please kindly read the description carefully before you make the order!
Features:
1. 100% quality assurance, latest product
2. Suitable for all moblie phone support wireless charging with QI standard for HTC, for Nokia, for LG, for Samsung's Galaxy S4, Galaxy S3, Galaxy Note 2, Galaxy Note 3, Galaxy S5, for iPhone 4/4s/5/5s etc.
3. The item's color is Black/White.
4. The item is mobile phone universal wireless charging pad with Note 2 Receiver!
Specifications:
Product Specifications
Input Current : DC5V 2000mA
Output Current : DC5V 800-1000mA
Transmission distance: 4-10m
Charging efficiency: ≥ 70%
Performance standard: QI wireless charging standard
Quality Certification: CCC / CE / FCC certification
Product Dimensions: Length 155mm/width 85mm/height 10mm
Package weight: 110 g
Color : Black/White
Support Devices:
As of writing, this wireless charging pad supports the following phones:
1. for Nokia Lumia 920 820 (International)
2. for LG (google) Nexus 4/ Nexus 5/ Nexus 7(For LG Nexus is a little special and its coil is below, so you need to align the phone to the top of the charger.)
3. for HTC Droid DNA/HTC 8X(international)
4. for Samsung Galaxy S III (Purchase of a Qi wireless receiver is required)
5. for Samsung Galaxy Note II /Note III (Purchase of a Qi wireless receiver is required)
6. for Samsung Galaxy S IV (Purchase of a Qi wireless receiver is required)
7. for Samsung Galaxy S V (Purchase of a Qi wireless receiver is required)
8. for iphone 4/4S,for iphone 5/5S/6/Plus ( Purchase of a Qi Wireless receiver cover case is required)
If you are not sure whether it is compatible with your phone,please contact me to confirm it.
Qi wireless charging pad
For iPhone:
For iPhone 6/Plus --- External(need to install the Qi receiver back case)
For iPhone 5/5S --- External(need to install the Qi receiver back case)
For iPhone 4/4S --- External(need to install the Qi receiver back case)
For Samsung:
S3(9300/9308) --- External(reserved interface,need to install the Qi receiver)
Note 2 (7100/7102)/ Note 3 --- External(reserved interface,need to install the Qi receiver)
S4 (9500) --- External(reserved interface,need to install the Qi receiver)
S5 --- External(reserved interface,need to install the Qi receiver)
For Nokia:
920 --- Qi receiver built-in
928 --- Qi receiver built-in
925 --- External(reserved interface,need to install the Qi receiver)
720 --- External(reserved interface,need to install the Qi receiver)
820 --- Built-in(need to replace the battery cover)
For HTC:
Droid DNA --- Built-in
X920E Butterfly --- Built-in
Inceredible 4G LTE --- Built-in
8X --- Built-in
For LG(google):
Nexus 4 --- Built-in
Nexus 5 --- Built-in
Nexus 7 --- Built-in
For LG:
D1L --- Built-in
LTE2 --- Built-in
For SHARP:
SH-07D --- Built-in
SH-04D --- Built-in
SH-02D --- Built-in
More Images: