Contact us
Name:
SONWI
Tel:
+86-755-22212007
Fax:
+86-755-22212008
E-mail:
admin@sonwit.com
Add:
No. 168 Zhenzhong Road, Futian District, Shenzhen City ,Guangdong Province, China
MSN:
annalei1987@hotmail.com
Skype:
sinwit008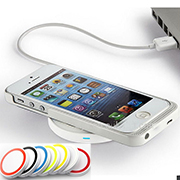 Qi Wireless Charger for Samsung iPhone
Model NO.: SW-QWC02

Quality: A+++

Color:
Feature:
Note:
Wireless Qi Receiver Not included!
Can only work with Qi standard built in directly,or have to buy Qi Receiver to work together,please kindly read the description carefully before you make the order!
Input :5V/1.5A
Output: 5V/700mAh
Demension :69*9mm
Charging Stardard: QI
Net Weight :85g
Charging distance: 6mm
Charging Method :One-to-one
Color: B/W-Green,B/W-Red,B/W-Blue,B/W-Yellow,B/W-W/B PS.:B= Black W=White
No Cables
Say goodbye to tangled wires and lost charging cables. The Wireless Charging Pad utilizes that eliminates the need to attach a charging cable every time you want to charge your device. The dedicated Charging Pad is always at the ready, providing wireless power whenever you set your device on the pad. You can still use your device while charging, and your device is always accessible so you can answer a call without having to unplug.
Easy To Use
The Wireless Charging Pad is easy to set up and use. First, connect the Charging Pad to your device's charging cable, then place your phone on the pad. For optimal performance, your device should be placed in the proper location on the pad. The built-in LED indicator light will alert you
if the device is not properly aligned and when a good charge alignment is acquired.
If using a Galaxy S6 or Galaxy S6 Edge,it will also alert you when your device is fully charged.
One Charger, Many Devices
The Wireless Charging Pad is certified by the Wireless Power Consortium (WPC) and is compatible with all Qi-enabled devices including from Galaxy S5, Galaxy S 4, Galaxy Note 4, Galaxy Note Edge and Galaxy Note 3 (these Galaxy smartphones require Wireless Charging receiver, sold separately)
as well as the Galaxy S6 and Galaxy S6 Edge,which do not require additional charging receiver .
Note:
1.The wireless charger can be used for all Qi-abled device.
2.Some mobiles phones must be eqquiped a Qi receiver to be charged wirelessly.(Please read the discription carefully)
The new portable Qi-abled wireless charger pad can be used for QI standard receiver.For Qi-marked devices,you just need to put them on the wireless charger pad,it will work well,and for some other without Qi mark,you need buy a wireless charge reciver for you phone.
Here list the main phone modelS in the market to show you whether you need buy a receiver.
1. for Nokia Lumia 928/920/ 820 (International)-----------can use directly
2. for LG(google) Nexus 4/ Nexus 5/ Nexus 7(For LG Nexus is a little special and its coil is below, so you need to align the phone to the top of the charger.)
3. for HTC Droid DNA/HTC 8X(international)---------------can use directly
4. for Samsung Galaxy S 3/S4/S5 ( a Qi wireless receiver is required)
5. for Samsung Galaxy Note 2 /Note 3/Nite 4 ( a Qi wireless receiver is required)
6. for Samsung Galaxy S IV (Purchase of a Qi wireless receiver is required)
7. for Samsung Galaxy S V (Purchase of a Qi wireless receiver is required)
8. for iphone 4/4S,for iphone 5/5S/6/Plus ( a Qi Wireless receiver cover case is required)
9.For Samsung S6 and S6 edge--------------------------------- can use directly .
10.for LG D1L/ LTE2/G3 D855 ---------------------------------can be use direcly
11.for Sharp SH-07D/SH-04D/SH-02D----------------------------can be use directly
What's in the box?
1*QI Wireless Charger
1*USB cable
1*User Guide
More images: